Complete Billing Solutions
Work From Anywhere With Secured Cloud Based Billing Solution For Your Growing Business Needs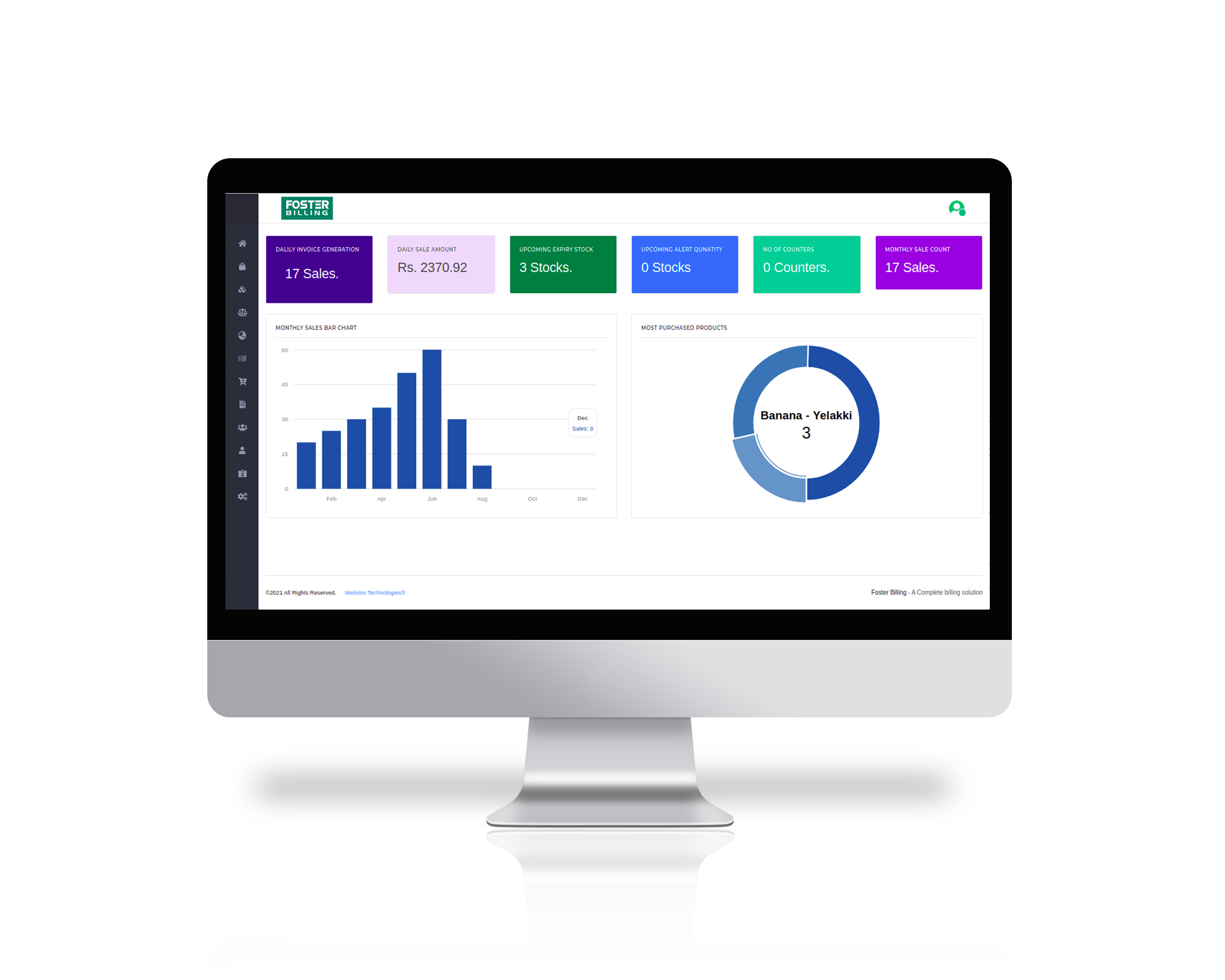 Product features
Your Own Business Ecommerce Platform
Expand your business to next level by promoting and selling products on your own online platforms
Business Global Expansion
Globalize your business for selling your products more and multiply your revenue.
Work From Anywhere
Track Stock, Sales, Purchases, Expenses anytime anywhere using our secured cloud based billing solution
Barcode Scanning for Quick Billing
Barcode Scanning and Customized barcode generation simplify stock take-off process
Instant Inventory Control
Track inventory with parameters like batch,barcode,expiry date and all other details and find live inventory status instantly
GST Billing & Reports
GST bills can be accounted before tax filing.Stock, Purchase,Sales, Expiry Stock Reports can be generated easily.
Customer Management
Manage wholesale and retail customers and share customised/gst bill with ease.Supports A4 size regular & thermal printing of invoices.
Purchases & Expenses
Tracks your purchases and expenses with suppliers and manufactures.Credit-Debit Details can easily managed here.
For Every Shops
Foster Billing is a cloud based billing application that meets all your business needs. This software is best suitable in grocery shops, supermarkets, vegetable shops, furniture shops, auto accessories, hardware shops, boutique and textiles,paint shops, footwear and apparels shops, computer shops,pharmacy, bakery and all other shops. We will provides you customized application according to your ideas.
For Retailers
Provides you easy inventory management,couter billing system,thermal printing,cloud based secure,fast business management and much more.
For Wholesales/ Distributors
Provides you low stock alerts,invoice customization,send invoice to customers via email, credit debit alert and much more
Generate Reports for Every Business
Manage Inventory according to stock reports, make tax filling easily with autogenerated gst reports,track your most important customers and much more
Pricing
Sed do eiusmod tempor cesa.

Sed do eiusmod tempor cesa.

Sed do eiusmod tempor cesa.
Sed do eiusmod tempor cesa.

Sed do eiusmod tempor cesa.

Sed do eiusmod tempor cesa.

Sed do eiusmod tempor cesa.